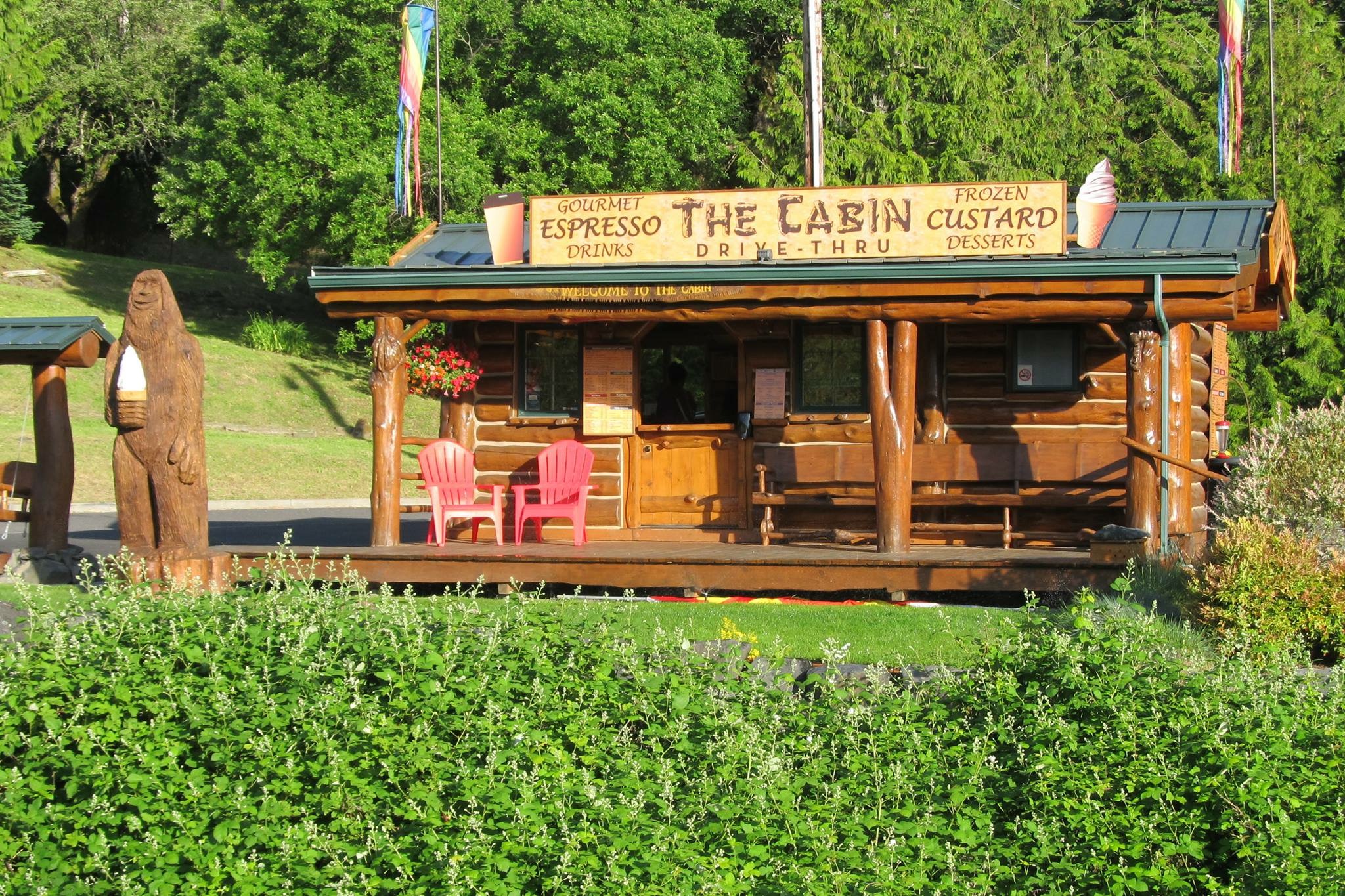 Located in The Columbia River Gorge in Stevenson, WA. We are only a few miles east of the Bridge of the Gods off of Highway 14.
The Cabin Drive-Thru was established in 2014 by Ben & Vicki Sciacca. Scott and Lori Lishan became the new owners in 2017. Scott and Lori met over 20 years ago in the restaurant business. Scott has worked in fine-dining in the Portland area for over 20 years. Lori became a local elementary school teacher until building her own health & wellness business Lori's Oil Community . You will be pleasantly surprised by this hidden treasure in The Gorge. Well worth the drive on the Washington side of the river. A popular stop for hikers.
We pride ourselves in quality food and service. We love our local community and hope that when you visit our establishment, you too will fall in love with our town of Stevenson.
We are a Kid Friendly & Dog Friendly establishment. We have free Wi-Fi.
We offer Gluten Free and Vegan Options.
Follow us on FACEBOOK
Today Specials
HOT SANDWICH: Sliced, Roasted Chicken Breast with Kimchi, Havarti Cheese & Sriracha Mayo
We've Got STRAWBERRIES!!
Fresh Strawberries over Pound Cake
Phone & Contact
(509) 427-0095
LoriLishan@gmail.com
Location
210 NE Lutheran Church Road
Stevenson, WA 98648
(On the east end of Stevenson on the north side of SR 14)
WINTER HOURS begin after Labor Day
CLOSED Sundays
Mon-Fri 6am-4:30pm
Saturday 8am-1pm
CLOSED Labor Day Sept. 2nd
CLOSED Sept. 13-15th
Summer Hours begin
May 4th 2020
CUSTARD DESSERTS
Choice of Vanilla, Chocolate or Twist
Wellness Brewing at The Cabin
essential oils for natural solutions
Lori Lishan is our local essential oil educator. The Cabin uses the purest essential oils to create some of their most unique flavor profiles for coffee drinks, desserts and more. These oils are sold at retail at The Cabin or have them shipped to you and pay Wholesale by going to Lori's Shop Online. Learn more at LoriLishan.com . Recipes and their many uses. Contact Lori and schedule a free 20 minute wellness consultation. Let's start your Natural Health & Wellness Journey today!
Lori Lishan 360-713-2088
LoriLishan@gmail.com
CHA CHA CHIA!!!!
A popular item at The Cabin is our Vanilla Chia Seed Pudding. Learn to make many variations for yourself at home here. Chia is rich in the Omega's! A great on-the-go item for hiker's and athletes. At The Cabin, this is a vegan, gluten-free item.
KETO COFFEE & COPAIBA
We serve Keto Power Coffee at The Cabin. The joy of adding healthy essential oils to your coffee is a wonderful sugar-free flavor option, but also feeds your cells.
COPAIBA is taking the world by storm!! Often compared to CBD oil as it has similar health benefits without the THC. Copaiba and CBD are rich in Beta Cary Phyllene (BCP). doTERRA's specific blend of 4 species of the Brazilian Copaiba plant contains 20% MORE BCP than CBD oil. Plus you know with doTERRA that the sourcing is the best you can find. OH AND DID I say, it's more affordable than CBD oils, as well. Get Yours HERE!
Purchase in Softgel Capsule form HERE!